About this webinar:
Poultry World webinar on Poultry Health and Nutrition, 17th of March 2021
One of the most important production parameters in poultry production is the hardest to measure. A healthy and disease free bird is the key to making a profit. Keeping the birds healthy and feeding them accordingly with the right ingredients and additives demands a high level of knowledge and the full attention of the nutritionist, farm manager and veterinarian. In this webinar, experts will focus on how to achieve healthier poultry through a balanced gut health.
Lukas Erik Juncker Boll
Senior Research Scientist in the Animal Health Innovation department of Chr. Hansen
"The power of good bacteria in improving intestinal health in poultry"
Why is intestinal health important for poultry?
What are the consequences of having a leaky gut vs. healthy gut?
How can we prevent the losses due to health issues on the farm level?
José M. Ros
VET MD, Global Technical Manager at Perstorp Animal Nutrition
"How to support poultry gut health through nutrition"
Complexity of the concept "gut health"
Supporting gut health through nutrition
Research overview
Drs. Gerwin Bouhuis
Veterinarian Gezondheidscentrum voor Pluimvee (GvP) Emmen
"The multifuntional role of vitamin D in sustainable poultry production"
Good intestinal health is a prerequisite for the absorption of of fat-soluble
vitaminsVitamin D plays a multifunctional role in health and performance
The effect of increased levels of vitamin D as a feed additive and possible alternatives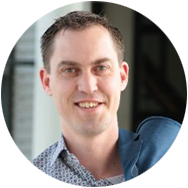 host and editor Poultry World
Partners